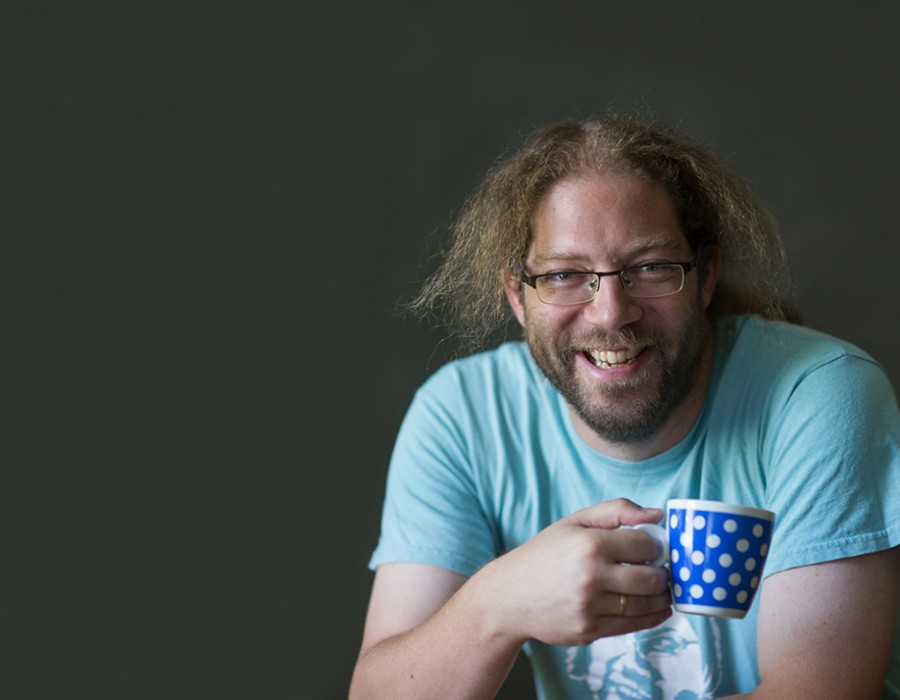 Dániel Varró
poet, literary translator
Dániel Varró  is one of the most prominent figures among the young Hungarian generation of poets, admired for his wide range of works and unique humour by the critics and audience alike. Having form and parody mastered, he has already shown his talent in many forms and genres: poems, children's poems, theatre plays and literary translation. His work has brought authenticity and a fresh breeze into contemporary Hungarian literature.
Dániel Varró was born in Budapest, on the 11th of September 1977. He wrote his first poems at the age of 12. He studied Hungarian and English literature and grammar at ELTE-BTK.
His poems and translations have been published since his adolescence. He co-wrote and edited many books besides his own pieces. His first published book was Mug of Azure in 1999, followed by Beyond the Smudgy Mountain, Andy Muhi and the Empire of Blotches (2003). Heart-Dessert came out in 2007, then He whose foot is size six inspired by the birth of his child, and its next volume: He who has his tooth out.
Theatergoers also know his name, for he has worked with many theatres in Budapest and in the country as a playwright and translator. A member of the József Attila Kör since 1999, Belletrist Association since 2005, and MAOE (Association of Hungarian Artists) since 2008.
Awards
Knight's Cross of Merit of the Hungarian Rebuplic, 2020

Literary Translator of the Year, 2019

Merítés – book of the year prize of the jury and of the public, 2017
Book convention of Győr – writer's prize, 2011
Holmi Literary Translation competition – shared 1st prize, 2010
Award of critics – best Hungarian drama, 2008/2009 
Cross of Merit of the Hungarian Republic – gold, 2007
Attila József Award, 2005
Gundel Award, 2004
IBBY Award for the Book of the Year for Children, 2004
Petőfi Award, 2003
Bárka Award, 2003
Zsigmond Móricz Grant, 2002
National Theatre Festival Special Award (for the translation of Knives in Hens), 2000
New Hungarian Radio Play Award, 2000
Sándor Bródy Special Award, 1999