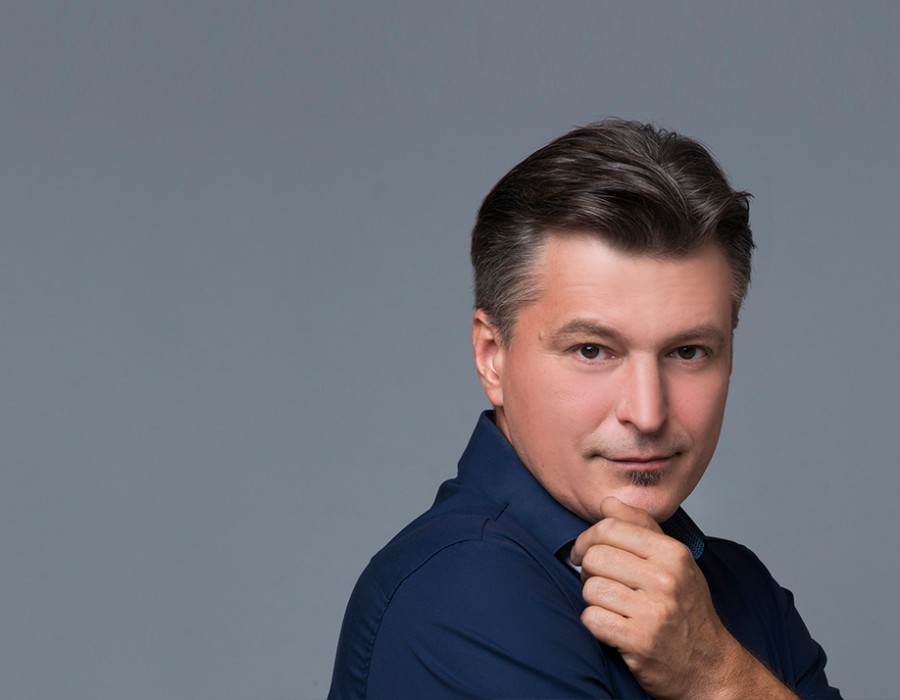 Zsolt Homonnay
actor, singer
"Zsolt Homonnay was a classic bon vivant in the role of Mister X. Although his voice fills the theatre and he has quite a presence, he doesn't take himself too seriously."
Zsolt Homonnay, born in 1971 in Kaposvár, began his acting career in the studios of the Sándor Hevesi Theatre in Zalaegerszeg. He was later admitted to the SZFE University of Theatre and Film Arts, Department of Operetta and Musical Theatre, where he graduated in 1997, under the guidance of Miklós Szinetár.
In 1999, he landed the key role of Che Guevara in the hit musical Evita, and played Jesus Christ in the rock opera Jesus Christ Superstar. In 2000, Homonnay was invited to Berlin to play 2 parts in The Hunchback of Notre Dame: Quasimodo and Phoebus. He returned to Hungary in 2002 and plays mostly in the Budapest Operetta Theatre.
In the nearly two decades since, he has played in a remarkable line-up of operetta masterpieces. Homonnay played leading roles in Csárdás Princess, The Kissing Lady,Countess Maritza, The Merry Widow, Victoria, The Duchess of Chicago, A Night in Venice, Gypsy Love, Ball at the Savoy, The Yankee Princess, The Circus Princess, The Marriage Market, János Háry, and Baroness Lili.
Meanwhile he found opportunities to sing the leading roles of the best musicals of the world, and of Hungary. He starred in hit productions such as The Phantom of The Opera, Les Miserables, Romeo and Juliet, The Beauty and the Beast, Miss Saigon, West Side Story, Elisabeth, Dorian Gray, Jesus Christ Superstar, Rudolf, Abigail, Evita, and The Threepenny Opera.
Between 2010 and 2020, he regularly toured with the the Budapest Operetta Theatre company with the German language production of Disney's popular musical, The Beauty and the Beast. Beside Hungarian and German, he has played roles in English, Italian, even some scenes in Hebrew at The Israeli Opera in Tel-Aviv.
He graduated from the University of Arts Târgu-Mureş with a degree in theatre directing in 2020. The performance he graduated with Brown & King Gutenberg! The Musical!, which was performed at the Karinthy Theatre. Since then, he has directed six major operetta and musical galas, as well as Huszka's Corporal Mária. Next season he will direct Wildhorn's Carmen at the Budapest Operetta Theatre.

Starting with the academic year of 2021-2022, Homonnay has been serving as an advising faculty member at the SZFE University of Theatre and Film Arts.
He launched his singing career in 2005 with the foundation of the band Adagio. They grew into a beloved singers' band, and racked up three platinum records and one gold. He has published two albums with his ex-wife, the actress Lilla Polyák: Both of Us (2009) and Two Hearts (2010.)
Zsolt's musical sensitivity guides his hand in writing and translating song lyrics as well. He wrote the lyrics of numerous Hungarian pop hits, and adapted foreign ones to Hungarian.
Awards
Operetta Actor of the Season Prize, 2022
Jászai Mari Prize, 2021
Honthy Prize, 2018
Best Musical Actor, 2012
Male Leading Performer of the Year, 2000