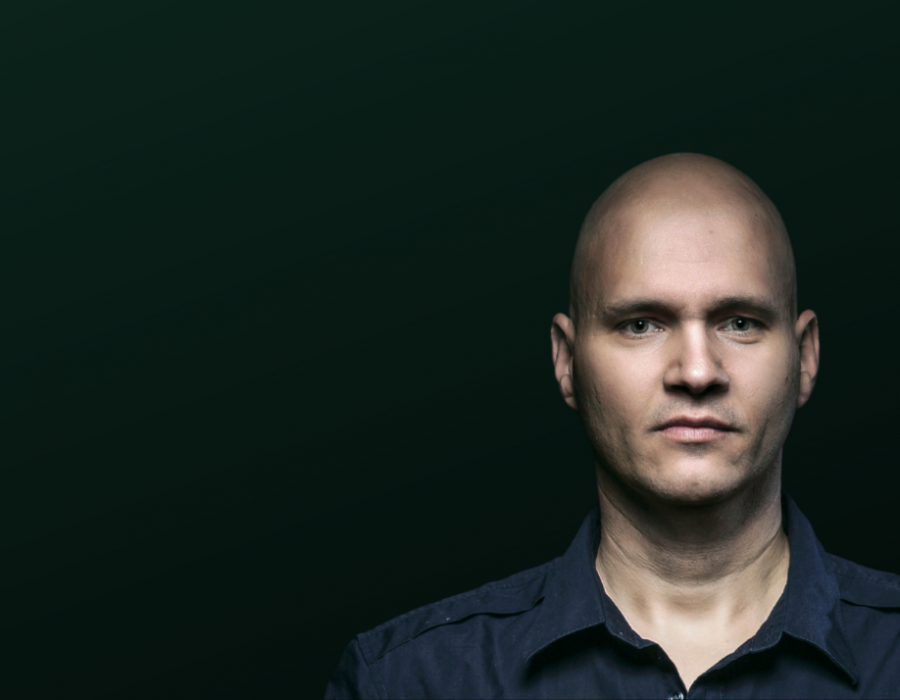 Roland Szentpáli
tuba artist, composer
"(…) the instrumental movements were performed immaculately and with an exotic beauty of sounding by an extraordinary ensemble including a trumpet, three trombones, and a serpent. Later was played by Roland Szentpáli with such excellence I have never heard."
Tuba player and composer Roland Szentpáli plays a predominant role in the international music scene of brass instruments. His name stands as guarantee to give quality performance with period instruments, both technically and musically. As soloist and orchestra member alike, he has worked together with lead musicians and conductors. He passionately believes that period instruments continue to have a contemporary raison d'ętre, and he is a dedicated interpreter of contemporary music. He inspired top composers to extend their tuba repertoires, but his original compositions also play an important, niche-filling role in the canon of tuba literature.
Szentpáli's composership is not limited to brass instruments. Alongside his solo and chamber music pieces, his repertoire also includes monumental orchestral compositions, oratorios, one ballet, several concertos and many pieces composed for band ensembles. Over the course of his career of 30 years, more than 60 albums are hallmarked with his name as a musician and a composer alike.
He finished his higher music education at Liszt Ferenc Music Academy in Budapest in 2002, but he also enrolled as an auditing student at Mozarteum University in Salzburg and the Music Academy in Lausanne. He earned his doctorate degree in 2018. He teaches at several universities across the world and had given numerous lectures and master classes. Currently, he is a senior lecturer for the tuba at Liszt Ferenc Music Academy, an associate professor for tuba and chamber music at Lucerne Music Academy and a guest professor at Ljubljana Academy of Music, and he performs as a soloist and section leader with the Hungarian National Philharmonic Orchestra.
He regularly performs with orchestras as a soloist or musician. He performed under conductors such as Valery Gergiev, Jaap van Zweden, Gennady Rozhdestvensky, Vladimir Ashkenazy and Philippe Herreweghe.
Throughout his career, he received seven 1st places, two 2nd places and one 3rd place in international competitions. He received several Artisjus awards, 5 in classical music category and 1 in jazz music category. In 2014, he received the ITEA award for recording excellence for his album "Meet the beat" in Jazz/Funk/Fusion category, then he received the ITEA award for recording excellence for his album "i3" in Solo Classical category in 2016 in the USA. His compositions are performed regularly at such prominent locations and festivals as the Elbphilharmonie Hamburg, the Stravinsky Auditorium in Montreaux or the CAFe Budapest in the Palace of Arts (MüPa) and the Music Academy.
Awards
Roger Bobo Award - for the best classic solo tuba recording - (i3 album), 2016
Roger Bobo-díj - (RTB Crew Meet the Beat album), 

ITEA, USA,

2014

Artisjus Award 

(performing classical music category), 2009
Artisjus Award (

for his outstanding performance in the presentation of Hungarian contemporary jazz),

2008
Artisjus Award, 2006
I. County Prima Award, 2006
Artisjus Award (for the presentation of contemporary music), 2004
Annie Fischer Music Performing Arts Scholarship, 2004
Reward for the City of Nyíregyháza, 1998
Artisjus Award, 1998
Scholarship for Young Artist Candidates, 1995
Béla Bartók Youth Symphony Orchestra Foundation Award, 1994
COMPETITION RESULTS
Markneukirchen International Tuba Competition - 3rd prize, 2004
International Tub Competition in Finland - 1st prize, Lieksa, 2001

South Korea's 1st International Brass Competition - 

1st prize, Jeju, 2000

Markneukirchen International Tuba Competition -2

rd prize, 2000

International Tuba Competition - 

1st prize, Jeju, 2000

Balogh-Zilcz Trombone and Tubing Competition - 

1st prize,

 2000

International Performing Arts Competition - 

1st prize,

Brno, 1999

TubaMania International Competition - 

1st prize

, Sydney, 1999

1. European Solo List Competition - Best tuba player, München, 1999

1. European Solo List Competition - 

2rd prize

, München, 1999

Europe Tuba Competition - 

1st prize, München, 1999
Donald Beyer Tuba Competition - 1st prize, Budapest, 1999
International Brass Competition - 1st prize, Gdańsk, 1999

International Tuba Competition

- 2rd prize, Guebwiller, 1997
IV. National Brass and Percussion Competition- Grand Prix, Miskolc, 1993
IV. National Brass and Percussion Competition - 1st prize, Miskolc, 1993